Gulbenkian Choir in a concert to mark the Armenian Genocide
Watch the concert at the Châtelet Theatre in Paris here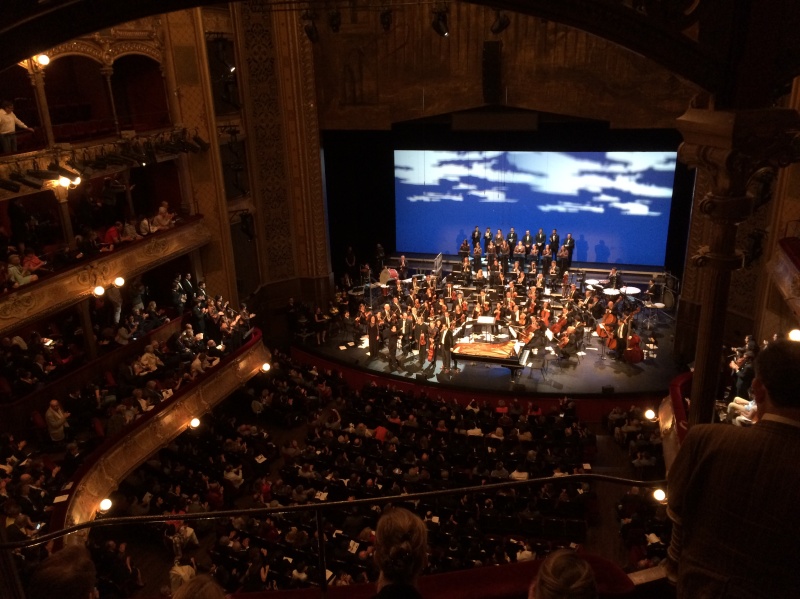 On 21 April, at the Théâtre du Châtelet in Paris, the Gulbenkian Choir performed in a concert aimed to remember 100 Years of the Armenian Genocide.
In addition to the Choir, three members of the Gulbenkian Orchestra joined in this commemorative concert, Samuel Barsegian, Varoujan Bartikian and Levon Mouradian, who performed in the Armenian World Orchestra, created specifically for this occasion, comprising Armenian musicians coming from all over the world. This specially convened ensemble was directed by Alain Altinoglu, the young French conductor, also of Armenian descent, who directed The Martyrdom of Saint Sebastian by Claude Debussy in the 2012/2013 Gulbenkian Music season.
The programme for the tribute concert included works by two composers emblematic of Armenian music, Komitas (Miniatures) and Aram Khatchatourian (Mascarade), as well as the world premiere of Ciel à vif, a triple concerto for piano, violin, cello, choir and orchestra by Michel Petrossian, a young Armenian composer, winner of the International Queen Elizabeth Grand Prize in 2012. The programme ended with a performance of Mozart's Requiem.
The administrator of the Martin Essayan Foundation, the great grandnephew of Calouste Gulbenkian, was in Paris for this concert, which was also attended by the French President, François Hollande.