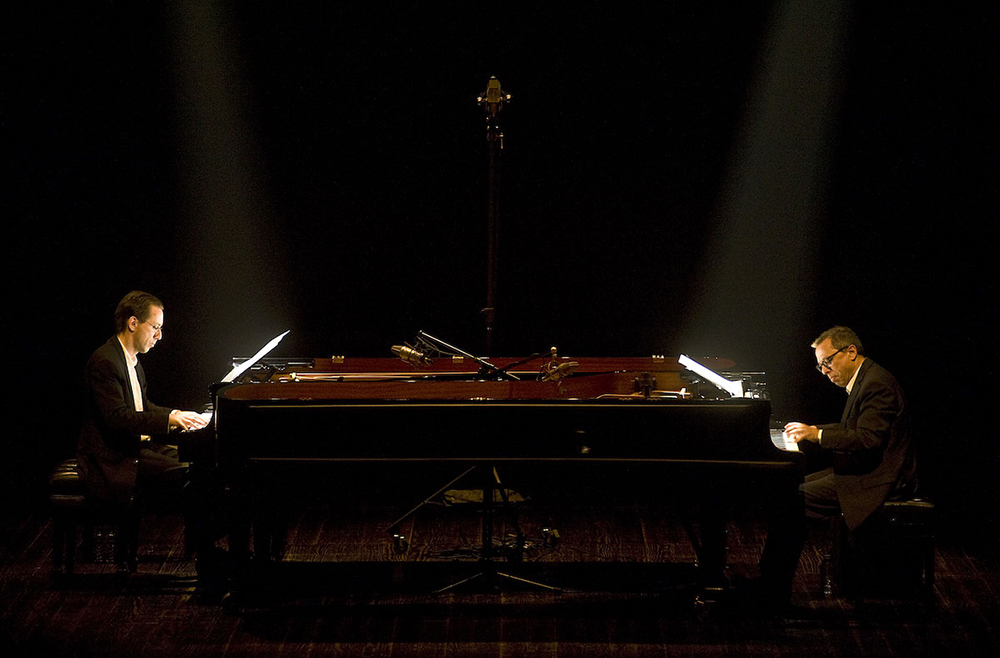 Pedro Burmester & Mário Laginha
Chopin, Piazzolla, Debussy, Ravel, Laginha
When
Sun, 14 January 2018
18:00
Tickets
Zone 1: €40,00
Zone 2: €30,00
Zone 3: €20,00
Balcony: €25,00
Pedro Burmester and Mário Laginha have long been promoting encounters between their different musical styles. This complicity was documented in 1994 in the album Duetos and, since then, the unique profile of this duo has regularly been heard in concert. In 2007, they also created the 3 Pianos project with Bernardo Sassetti. Back in the duo format, they will perform at Gulbenkian Music in a programme featuring Mário Laginha's Concerto for Two Pianos and different interpretations of Chopin's Ballad No. 1.
Pedro Burmester Piano
Mário Laginha Piano
Astor Piazzolla
Grande Tango
Fryderyk Chopin / Mário Laginha
Balade No. 1, op. 23
(Mário Laginha solo)
Mário Laginha
Concert for two pianos *
Fryderyk Chopin
Balade No. 1, op. 23
(Pedro Burmester solo)
Claude Debussy
Prélude à l'après-midi d'un faune
Maurice Ravel
La valse
* World premiere
This recital will be recorded by EuroArts Music International and broadcasted live (video streaming) by ARTE Concert.
---
Piano Series Sponsor

What's On