Surrealism in the Modern Collection
An exhibition at the Fundação Cupertino de Miranda in Vila Nova de Famalicão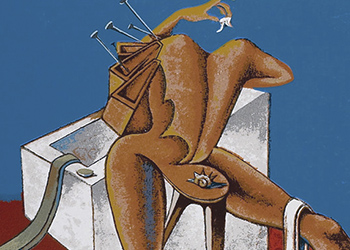 From 1 June to 8 September, the Fundação Cupertino de Miranda presents the temporary exhibition Surrealism in Calouste Gulbenkian Foundation's Modern Art Collection, featuring almost 60 Portuguese surrealist works on loan from the Calouste Gulbenkian Museum – Modern Collection.
The exhibition coincides with the inauguration of the Centro Português do Surrealismo, the Portuguese centre for Surrealism, which currently hosts more than 3000 works in its collection and is one of the most important collections of surrealist art in Portugal.
Bringing together paintings, sculptures, drawings, photos and prints, Surrealism in Calouste Gulbenkian Foundation'sModern Art Collection includes works by more than a dozen Portuguese artists, including António Pedro, António Dacosta, Marcelino Vespeira, Fernando de Azevedo, Cruzeiro Seixas, Fernando Lemos and Mário Cesariny.
The exhibition is accompanied by a catalogue where all the exhibited works and a wide selection of the works included in the Modern Collection are reproduced in a total of 197 images. Introductory texts are provided by Pedro Álvares Ribeiro and Penelope Curtis, with an essay by António Gonçalves and Perfecto E. Cuadrado and another by Laura Mateus Fonseca.