Cruzeiro Seixas at the Museu do Côa
Artur Cruzeiro Seixas, one of the most iconic artists associated with the Portuguese surrealist movement, is welcomed in Vila Nova de Foz Côa, in an exhibition that explores the artist's various practices. The display can be seen until the end of June.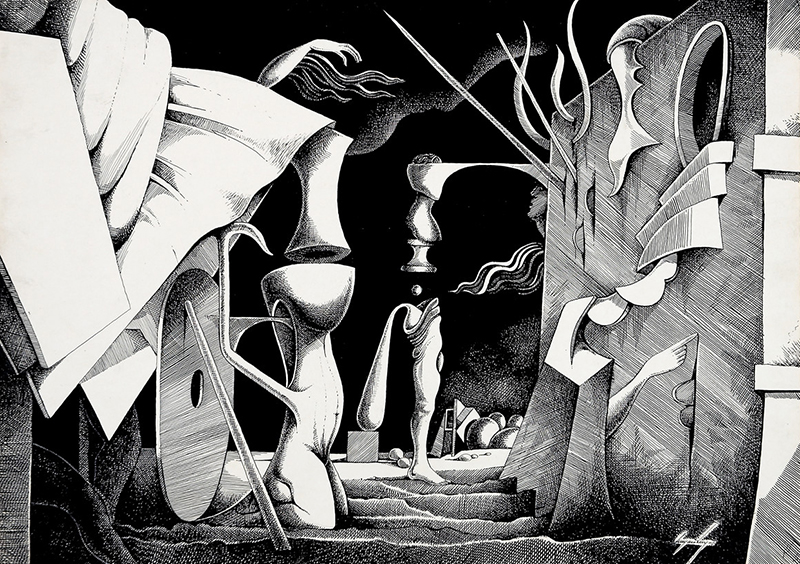 The exhibition Cruzeiro Seixas: 'In the Labyrinths I Invented' will be inaugurated at the Côa Museum in Vila Nova de Foz Côa on 14 March and remain open until 30 June.
Featured works are on loan from various national institutions, including the Calouste Gulbenkian Museum, which contributed one painting and five drawings. Curated by Alexandra Silvano, this exhibition, which is intended to be comprehensive and, as far as possible, retrospective, presents works that are representative of the various artistic practices explored by the artist.
Currently 98 years old, Artur Cruzeiro Seixas is often considered the main living exponent of Portuguese surrealism. Among Portuguese surrealists, he is the artist who most legitimately stands out in the field of drawing, having developed an intense and extensive activity in this discipline. In Indian ink on coated paper, his works are populated by fantastic, zoomorphic and anthropomorphic creatures, creating a scenario that is both familiar and strange.
The exhibition is accompanied by a catalogue with curatorial texts and reproductions of the works on display.