Maria Antónia Siza
A discovery in the Modern Collection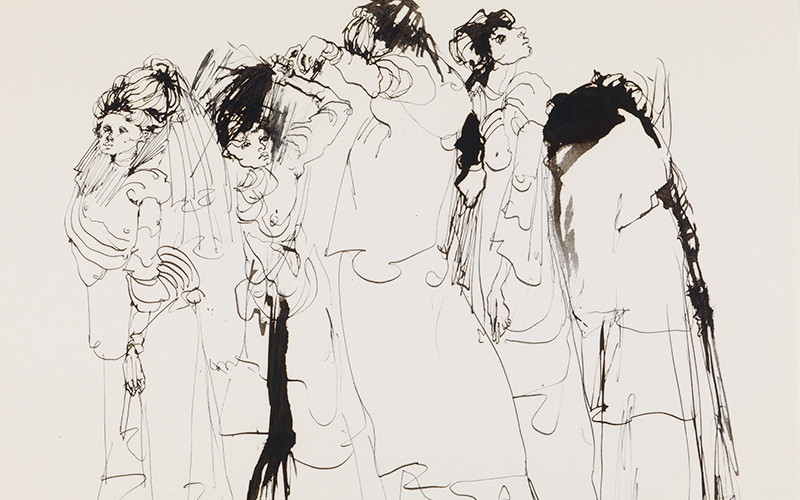 From 21 March, the permanent exhibition of the Modern Collection will dedicate a gallery on floor -1 to the work of unknown and prematurely departed artist Maria Antónia Siza (Porto, 1940-1973). During the 1960s, Siza actively produced numerous works on paper and a series of embroideries and some of these works can now be seen for the first time at the Calouste Gulbenkian Foundation.
 At the age of 17 Maria Antónia Siza  enrolled in the Painting course at the School of Fine Arts in Porto, which allowed to contact with artists such as Ângelo de Sousa, Jorge Pinheiro and Armando Alves, among others. During her first year of studies, the school director, architect Carlos Ramos, congratulated her on the quality of her drawing. Nonetheless, she would exhibit her work only once in her lifetime, at the Cooperativa Árvore in Porto in 1970.
The thirty-six works exhibited here – drawings in Indian ink, embroidery and some studies – are part of a donation of more than a hundred works by architect Álvaro Siza Vieira to the Calouste Gulbenkian Foundation and have recently been incorporated into the Modern Collection.
The unique universe of her work is reflected in this selection of drawings produced during the 1960s, works of an at times more expressionist, at times more surrealist nature and representing grotesque, provocative, disturbing and contorted figures in bed or on the floor, twisting, squirming, torn from the inside out. These are staged beings, choreographed in groups and huddled together as they navigate the sheet of paper, occasionally reaching up isolated in their thoughts, lost in the whiteness of the paper. Drawn with a unique hand and line, each individual character constitutes an encounter with the artist.