Game/Playful Tree in Seven Mirrored Images
Installation in the Modern Collection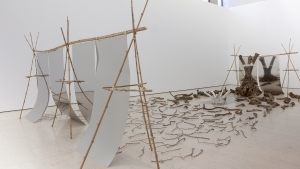 "If there's a natural element with which I've had a deep relationship for as long as I can remember, it's the tree." A.C.
Author of Notas para um Manifesto de Arte Ecológica (Notes for a Manifesto of Ecological Art), written between 1968 and 1972, in which he defended an anthropological view of artistic production, with a close dependency on the land and on nature, with trees having particular importance, as well as approaching oriental philosophies, Alberto Carneiro was a pioneer of Land Art and Arte Povera in Portugal, and one of the most important Portuguese sculptors of the second half of the 20th century. With a scholarship from the Calouste Gulbenkian Foundation, he studied sculpture at St. Martin's School of Art, London, with Antony Caro and Phillip King, between 1968 and 1970. His work has been exhibited regularly but has never been widely promoted nationally or, particularly, internationally.
In Árvore Jogo/Lúdico em Sete Imagens Espelhadas (Game/Playful Tree in Seven Mirrored Images), Alberto Carneiro combines a natural element – an olive tree taken from a field of uprooted trees – with clay, as a primordial element used by man, and steel sheets, produced industrially, whose mirror-like effect places them as the limit and extension of the installation space. In this work, we see a clear statement of Alberto Carneiro's proposed aesthetic, combining different materials, drawing on the gallery floor with small tree branches the mirrored reality.
This installation was presented at Galeria Quadrum, Lisbon, in October/November 1975, as part of a significant group of other works from the 1970s. It was remade by the artist in 2009, for the exhibition Anos 70 Atravessar Fronteiras (1970s Crossing Borders), in the Calouste Gulbenkian Foundation's Modern Art Centre.