East-West
Crossing Cultures, Crossing Time. Italy and the Ottoman Empire, 1500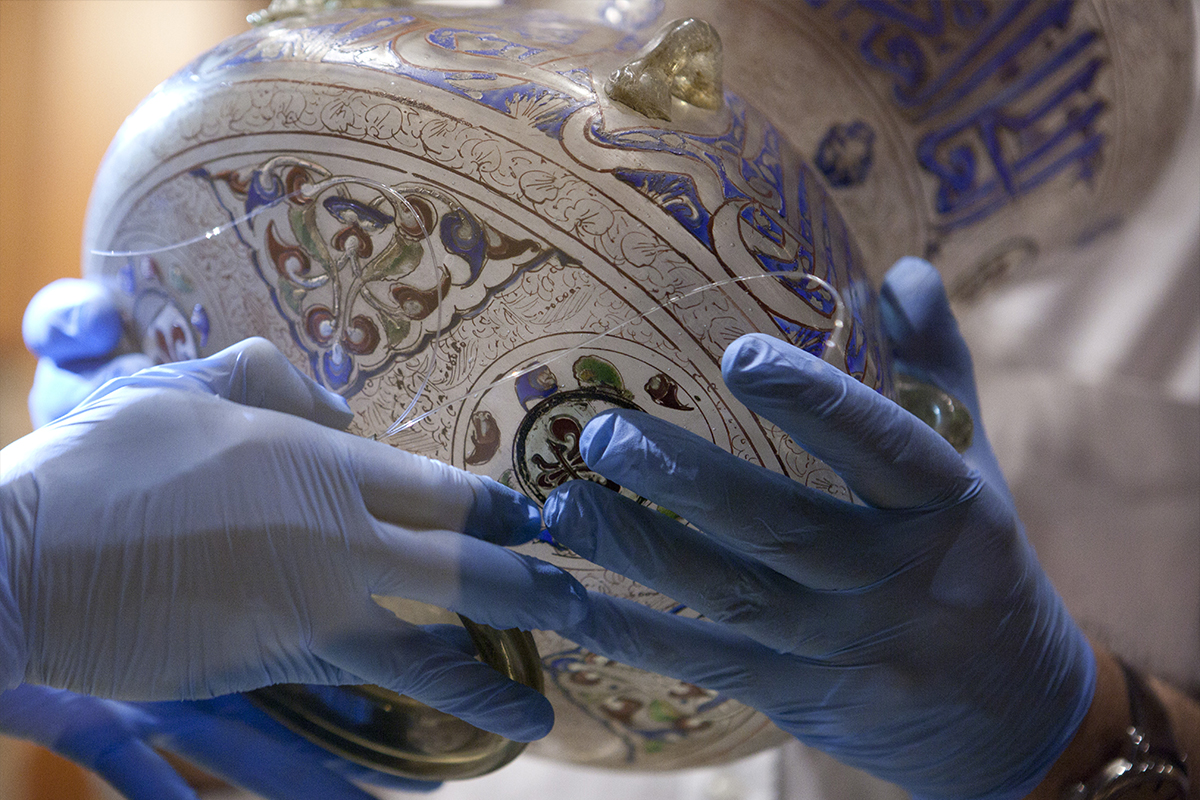 The latest intervention in the Founder's collection breaks down historical categories and demonstrates how cultures considered to be separate are actually intertwined. It takes as its point of departure Calouste Gulbenkian's early example of a transnational collector. Throughout his life Gulbenkian sought objects from East and West and brought them together, putting one beside the other, in similar spaces in his home. When his art collection was installed in the Gulbenkian Museum, after his death, it was organizedaccording to geography, following a timeline, and Asia was separated from Europe. And yet some of the most interesting objects represent very close cross-overs between East and West.
The new intervention Crossing Cultures, Crossing Timeis an attempt to make more of these conversations. The first project explores the interchanges that occurred between Europe and the Middle East, between Italy and the Ottoman Empire, around 1500.  It looks at craftsmen, objects, patterns and techniques, as well as iconographies of dynastic representation and power.
The selection highlights the rich exchanges that occurred between Venice and Istanbul, beginning with Sultan Mehmed II's commission of a portrait medal by the esteemed Venetian artist Gentile Bellini in 1479. Mehmed favoured the medal format, perceiving it as a means of asserting his power and direct lineage to the Emperors of ancient Rome and Byzantium. He also wore Italian cloth. Both societies prized rich textiles and used them as status symbols; whether for the parasol of the Doge of Venice or kaftans of the Ottoman ruling class. In Istanbul, a new court style arose which served as a model for Venetian art. Meanwhile, the decline of the renowned glass industry in Egypt and Syria spurred the rise of one in Venice, which exported its esteemed wares back to the Ottoman Empire. The display ends by comparing the great architectural traditions of glazed ceramics of Della Robbia in Florence and the Ottomans at Iznik, and observes that as different as they might first appear, potters in both places responded in similar ways to inherent economic challenges. All of these rich exchanges and parallels highlight the interconnectivity of the Eastern Mediterranean at this time.
The intervention is centred on a new purpose-built case designed by Mariano Piçarra, which houses the key story-telling objects as well as a new case for books and medals, and integrates the whole gallery. The display will change annually.