"I'm a woman, right?"
Curators' Choices: Patrícia Rosas highlights the work 'S. Vomiting the Pátria' by Paula Rego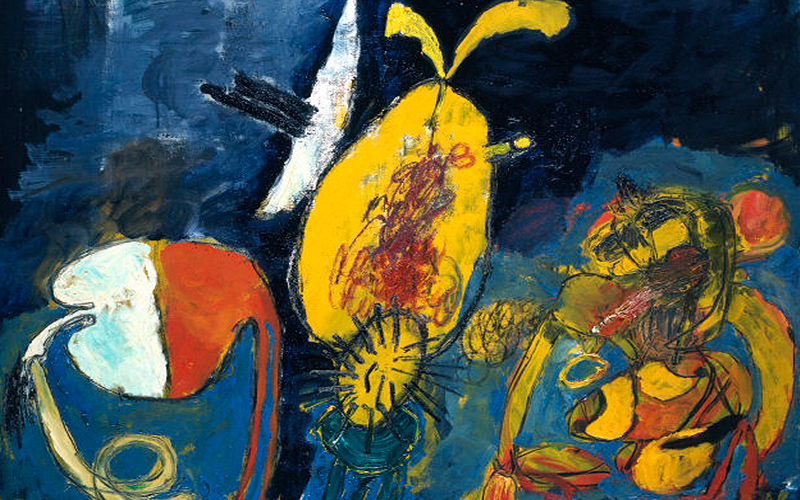 I went up to the second floor of the exhibition room at the National Museum of Women in the Arts in Washington to watch the unpacking and installation of the painting that I had followed from the CAM reserves to here.
Dating back to 1960, the painting by Paula Rego, S. Vomiting the Pátria – a title written on the back of the canvas by the artist, which was referred to for many years in Portuguese as 'Salazar a vomitar a Pátria' ('Salazar Vomiting the Pátria') – was exhibited for the first time in Portugal in 1972 at the Galeria São Mamede. At the time, the artist was unable to exhibit the painting in England because it unsettled the ruling powers.
Last year, after forty years, the painting finally appeared in an exhibition about the artist at the MK Gallery in Milton Keynes in the United Kingdom. In 2021, it is scheduled to form part of a large retrospective of Paula Rego's work at the Tate Britain, near the surrealist pieces that the artist produced at the start of her career and her informal art from the 1950s.
Referencing Miró and drawing inspiration from Dubuffet, whose work Paula Rego admired in London in 1958, S. Vomiting the Pátria evoked, warned of and fiercely criticised a dictatorship that clung onto power in a Europe that was already one step ahead of stagnating Portugal.
When, on 24 January 2008, I entered the National Museum of Women in the Arts in Washington, which was inaugurated in 1987 and is the only museum in the world to display the work of female artists only, I immediately knew that my encounter with the works and with Paula Rego would be sublime.
At the back of the exhibition room was the unmissable The Policeman's Daughter, depicting a young woman cleaning her father's boot, polishing it untiringly; there, welcomed by the artist herself, whose empathy and enthusiasm were apparent from the very first words we exchanged in Portuguese, I noticed how happy she was about the event. Upon seeing her very first retrospective in America come to fruition, in a museum dedicated solely to women, the artist made the following statement: "I'm a woman, right?".
In the exhibition catalogue, the curator Marco Livingstone explained: Paula Rego is an artist who continues to survive in the 21st century because her depictions of human behaviour are timeless. Her characters are timorous in their theatrical postures, acting in an atypical time and space.
Artists with this degree of international relevance, who tell stories through their paintings, are rare. That was always the preserve of books, and later, of photography and cinema.
Patrícia Rosas
Curator of the Museum
---
Curators' Choices
Over the next months, the curators of the Modern Collection will reflect on a selection of works, which include creations by national and international artists.
More choices