Victor Sá Machado
President (1998 – 2002)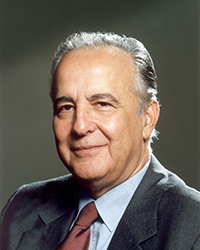 Cuima, Angola, 18 November 1933 – Lisbon, 27 April 2002
Trustee of the Calouste Gulbenkian Foundation from 1969 to 1974 and from 1977 to 1998 holding responsibility for the Museum, Health and Social Protection.
Vítor Augusto Nunes de Sá Machado took over as President of the Board of Trustees. During his mandate as President, from 1998 to 2002, he sought to humanise the role of the Foundation in Portuguese society and Portuguese language speaking countries, attempting to reach out to the disadvantaged and those without voices in society. He was Director of the Gulbenkian Foundation's Overseas Services, Trustee of Companhia Nacional de Petróleos and Vice-president of Partex and also responsible for the staging of the exhibition Only the Best: Masterpieces of the Calouste Gulbenkian Museum, Lisbon at the Metropolitan Museum of Art in New York. This greatly emblematic exhibition welcomed in the region of 1.5 million visitors.
Graduated in Law with a post-graduate qualification in Juridical Science from the University of Coimbra, he was awarded Honoris Causa doctorates by the University of Porto and Nova University of Lisbon.
He actively engaged in establishing the democratic regime in Portugal – he was a member of the Founding Parliament, Vice-president of the CDS party, President of its Parliamentary Group, President of the Democracy and Liberty Institute, MP and Vice-president of the Parliament of the Republic, Minister of Foreign Affairs in the second Constitutional Government, President of the UNESCO National Commission and honorary representative of the United Nations High Commissioner for Refugees.
He participated in various international conferences and meetings and published A candidatura à UNESCO e a política externa portuguesa. He was honoured with various national and international awards, including the Grand Cross of the Order of Prince Henry of Portugal in 1981.