Artur Santos Silva
President (2012 – 2017)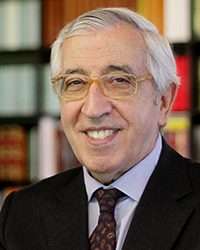 Oporto, 1941
Sitting on the General Consultancy Board of the Calouste Gulbenkian Foundation between 1995 and 2002, he subsequently became non-executive Foundation Director (2002 – 2012) and President of its Board of Directors between 2012 and 2017.
During his mandate as President, Artur Eduardo Brochado dos Santos Silva promoted the drafting of long term plans for the Music Service, the Gulbenkian Museum and the Gulbenkian Institute of Science; establishing Consultancy Boards for all Programs and the core areas of Foundation intervention. He also launched or backed the staging of studies and conferences on social, economic and financial themes as well as on European and national policies (in the latter case, especially emphasising research, education, healthcare and investment); backing the staging of an exhibition of Amadeo de Souza-Cardoso at the Grand Palais in Paris; supporting the renovation of the Grand Auditorium as well as a major retrospective of Almada Negreiros.
Throughout this period, he was also Director (2008 – 2012) and President of the Partex Board of Directors (2012 – 2017).
A graduate in Law from the University of Coimbra, he was Assistant Professor of Public Finance and Political Economics and Invited Professor of Financial Economics at the Faculty of Law of Coimbra, and Invited Professor of "Currency and Credit" at the Catholic University in Oporto.
Director of Banco Português do Atlântico between 1968 and 1975, he was State Secretary of the Treasury in the sixth Provisional Government (1975 / 1976), Vice-Governor of the Bank of Portugal (1977 / 1978), Founder and Executive President of SPI/BPI (1981 – 2004), President of the BPI Board of Directors (2004 – 2017) and Honorary President of BPI (since 2017).
Director of the Serralves Foundation (1996 – 1998), he was also President of Porto 2001 European Capital of Culture (1998 / 1999), of Cotec Portugal (2006 – 2009), President of Commemorations of the Centenary of the Republic (2008 – 2011), President of the Board of Founders of the Casa da Música (2006 – 2012), Member of the Higher Council of the Catholic University of Portugal (2004–2009) and President of the General Board of the University of Coimbra (2009 – 2012).
He has also served, since 2017, as a Member of the Curators Board of the "La Caixa" Foundation and President of the General Board of the University of Oporto and, since 2018, President of the Consultancy Board of Foundations.
He was awarded the Grand-Cross of the Order of the Infante (2004), the Grand-Cross of the Order of Liberty (2011) and the Grand-Cross of the Order of the Military Order of Sant'Iago da Espada (2017) and the Gold Medal of Honour by the Municipal Council of Oporto (2004). He has also received the Chevalier de la Légion d'Honneur (2010) and distinguished with Honoris Causa doctoral degrees from the universities of Porto (2008) and Nova of Lisbon (2017).