General
Gulbenkian Museum
Penelope Curtis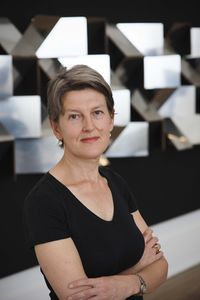 Penelope Curtis studied History at Oxford, before going to the Courtauld to study Modern Art, and then undertook research in Paris for her PhD on Monumental Sculpture in France c.1870-1930. Her first job was in the new Tate Gallery Liverpool when it opened in 1988.
From 1994-2010 she was based in Leeds where she was responsible for developing the Henry Moore Institute, with its acclaimed programme of exhibitions, collections development and research, presenting sculpture of all periods and places in distinctive thematic projects. The Institute became known for encouraging new kinds of scholarship, with fellowships, publications and inter-disciplinary programmes using the collections of the museum, library and archive.
In 2010 she took up the Directorship of Tate Britain where she oversaw the Millbank Project (arch. Caruso St John 2013) alongside the complete rehang of the building with a new chronological installation, which opened in May 2013.  At the Tate she was also Chair of the Turner Prize, and co-curated the Barbara Hepworth exhibition (2015).
Penelope Curtis is an established scholar and author with particular interest in inter-war art and architecture and in contemporary art, and often writes at the invitation of artists. Her publications include Sculpture 1900–1945 in the Oxford History of Art (Oxford 1999) and Patio & Pavilion: the place of sculpture in modern architecture (Ridinghouse/Getty 2007). In 2015 she gave the Mellon Lectures at the National Gallery in London and at Yale University.