98 years on, story of Armenian converts to Islam comes to light
Major Turkish newspaper breaks ground with discussion of hitherto taboo subject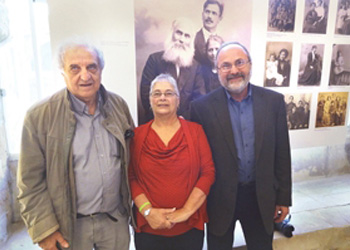 Taraf, a major national newspaper in Turkey, last week published this article about the experience of Armenians who converted to Islam in 1915 in order to avoid death. The story of the Dildilian family has generated extensive national and local coverage in Turkey, adding to the positive current of change in relations with Armenia. The article is notable for its unapologetic use of the word soykirim – genocide – without speech-marks or a qualifier such as 'so-called'.
As part of its work to improve Turkish-Armenian relations, the Armenian Communities Department is supporting Anadolu Kültür, which will soon publish Prof. Dr. Armen Marsoobian's book.

In the house of the Grandfather who was forced to become Muslim
by Müjgan Halis, Merzifon
Choosing to become Muslims rather than die, 17 Armenians lived for 2 years in the cellar.
The Merzifon Dildilian family that left 8 years after the Armenian genocide has returned with photographs. Three grandchildren of that family, Prof. Dr. Armen T. Marsoobian, Haig Der Haroutiourian and Rachel Dildilian enabled the photographs taken by their grandfather to meet their hometowners at the Merzifon Tashhan.  These photographs taken by the Dildilian family, the era's famous family of photographers, formed the exhibit "Bearing Witness to the Lost History of an Armenian Family" that had opened in May in Istanbul's Tütün Deposu.  Along with the exhibit, on coming to Amasya-Merzifon,  the three grandchildren visited the house of their grandfather, Tsolag Dildilian.  The grandchildren, who found their grandfather's house for the first time upon visiting Merzifon 2 years ago, over the course of exchanges during these two years became friends with the Kozlu family, Merzifon residents and the house's current residents. And whenever the Dildilian family came to the province, Remziye and Kemal Kozlu opened their doors to them, and helped them find the traces of their family.

They did not return themselves but their surrogates returned
As memories collected by the 3 grandchildren of the family, these photographs continue to tell the story of the life of the Dildilian family in the Sivas, Merzifon and Samsun areas between 1872 and 1923. The photography memorializes Tsolag, who died in Greece in 1935,  Aram whose life ended in San Francisco in 1963, and their mother Hayganu, who died in Paris in 1954. Referring to the exhibit's voluminous documents written in Armenian and English and  comprised of  memoirs, letters, voice recordings of family members and photographs, the grandchild Armen Marsoobian said: "In preparing this exhibit I believe I witnessed my family's story.  But in truth, my grandfather, his siblings and their children had already done the real, main part of the work of witnessing. The more than 600 photographs as well as hundreds of pages of memoirs, recordings and letters that he left me present a truly stunning record of how life was lived at the end of the 19th century and the beginning of the 20th."  The Dildilian story is unique in this respect and is different from the main story of the Armenian Diaspora. They feel themselves fortunate because most of their family's life-history in their fatherland, as stories coming through photographs and words, was saved from the flames. Even more than that, it is our family's privilege to have been allowed, to the extent possible, to learn in detail what life was like in that historic earth."Having come to Merzifon for the first time in the month of June of in 2011, Prof. Armen Marsoobian explained that since his first moment on the streets of Merzifon, he felt no sense of being foreign and he found everything easily in the area.  "I even found my Grandfather's house right away.  Because my Grandfather had died in Greece before I was born, I heard everything about Merzifon from my mother.  My mother lived here until she was 11 years old.  She constantly related memories: There was a large hill in front of her house and they tobogganed on the hill when it snowed. That slope is still there."

48 of their family were lost
Marsoobian explained that his family left Merzifon in 1921 and Samsun in 1922.  Since his family were photographers in 1915, they took refuge in the provincial American college and for this reason some of them survived.  Nonetheless, in 1915, 48 members of his family were killed in Samsun, Sivas, Vezirköprü and Trabzon. Of the large family found in the photographs in the exhibit, there were no survivors.
Marsoobian continued by saying that he saw the organization of the exhibit as a kind of "work": my biggest goal in coming here was to explain the truly great pain lived through in the past. And to refute the arguments of those who deny their pain.  Because denial does not destroy their truth.  There are 2 years left until the centenary of 1915. Marsoobian said that he personally requests neither family property, nor compensation nor anything tangible at all.  "My only dream is that the truth comes out, ending the hostility between two peoples. People living in Turkey must not refute the living pain that is made clear."
The youth were hidden in the cellar for 2 years
Armen Marsoobian learned many years later the reasons why the lives of his grandfather Tsolag, his brother Aram and their family were spared. "I knew the role played in saving the family's life by my grandfather Tsolag being a photographer.  What I did not know was that, as a condition for being exempt from exile, at the last minute they adopted Islam and thus were given permission to get Turkish citizenship .  When a friendly police officer told them that their only other alternative would be death, they convened a family council on August 10th, 1915.  There was no other way.  Together they went to the City Hall at midnight and into the mufti's office. All together they repeated the mufti's words: saying the proclamation of faith, that there is no God but God and Muhammed is his messenger and prophet.  They immediately chose names. Tsolag became Pertev, Aram's new name was Zki, and as for Hayganu, it was Nadire. Tsolag saved his household but he could not save the members of his large family outside of Merzifon.  However, in Merzifon he did hide 18 Armenian youth for 2 years in his cellar.  These 18 people did not see the sun for 2 years.  But even after all that, even changing religion and identity, it did not suffice to keep them on the land of Anatolia.